Last weekend we had the great pleasure of working with my darling SIL on our sons 1st birthday photos. We had a LOT of ideas and it was difficult to narrow down exactly what we were going to do. I searched and searched for the perfect colors and accessories for his shoot, and the result was perfect.
My son is fair skinned like his mama so I knew I wanted a really colorful setting to really bring his photos to life. I started with the backdrop color, which was a dark, indigo blue. Next I needed gold and blue accents. I ordered blue and gold tissue flowers from a seller on eBay, but I was sad to learn that only about half of them would show up, so I sent Hubby out to pick up some tissue paper and I got snipping. Here's an excellent tutorial by Hey Let's Make Stuff on how to DIY tissue flowers.
Next I needed a tassel banner for the backdrop, which I knew would be primarily gold tissue but I wanted to throw in some dark fabric accents. (Side note: If you haven't already, please check out my post on the Diaper Cover.)
I ordered the gold tissue tassels from eBay as well, though they are terribly easy to DIY if you need these in a hurry. Here's an excellent tutorial for tissue tassels by Pizzazzerie. I decided to add pieces of the multicolored, patterned cotton, as well as the midnight blue broadcloth that I used for the lining. I also had some blue confetti print cotton (from the first iteration of the diaper cover) and decided to put that in there as well.
A few helium balloons and gold stars later, we were ready to go!
The cake was lovingly baked and decorated by my MIL, and the photo was taken (and is being used with permission) by my SIL at J.MacPherson Photography.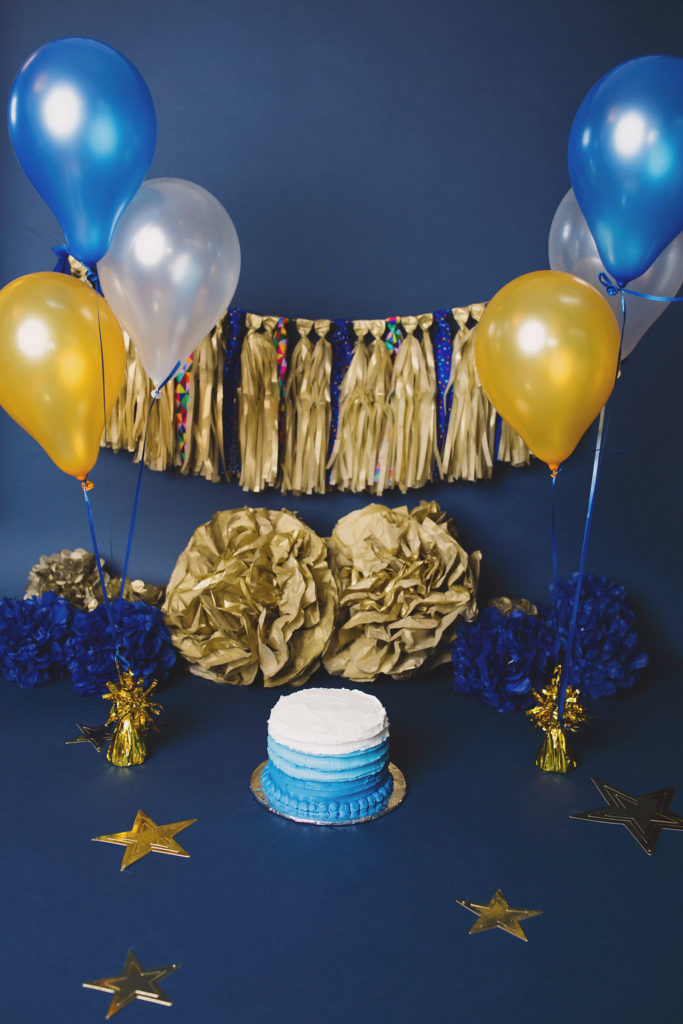 I had a ton of fun finding everything I needed to bring this to life. The banner was a super quick DIY and coordinated perfectly with his diaper cover.
Thanks for checking out my post!
Heather