If you're a regular of Make Life Crafty you may notice that I cycle through periods of intense crafting followed by periods of rest. Well, though I haven't posted in awhile I have in fact been a busy little sewing bee! I've been quilting a lot lately but haven't finished a single piece, so once I've got a final product to show off I'll certainly share my patterns with you.
But for now……..I simply HAD to pop on to share this……..
A week ago on Instagram I came across Indoor Shannon, who is a sewist, blogger, wife and mom of 4 beautiful kids. If you are on IG you should take a moment and look her up for sure. While browsing her posts I noticed this gorgeous yellow top that she made from an Athina Kakou (AK) pattern. I hadn't heard of AK so I looked her up…..just amazing! Her designs are modern and practical, and I immediately knew I wanted to try this top pattern.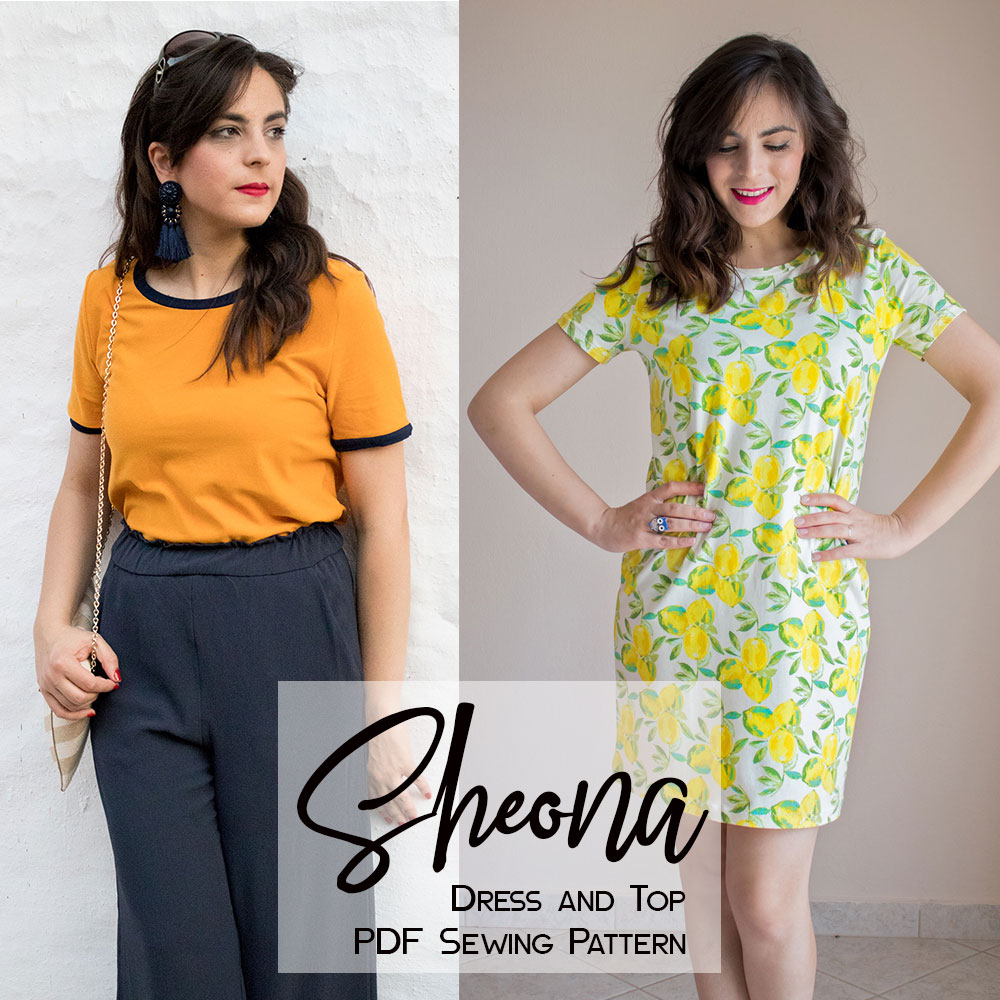 The pattern is called Sheona and it's for a top and a dress: https://athinakakou.com/product/sheona-dress-and-top-pdf-sewing-pattern/

Don't let the photo fool you – this is a top to fall in love with! On her site she shows sewing hacks for this pattern where you can add fancy elbow patches, ruffles, fancy sleeves and collars, but the one that I fell for was the front-tie version! Off I went to Fabricville to get a knit (or two).
I purchased the pattern and printed it out. It was fairly easy to tape together and then cut out the individual pieces. I love printable patterns for the following reasons:
Computer paper is much more stable than traditional pattern paper
I don't have to drive to the store to purchase a pattern, or wait for one to arrive by snail mail
You can just print the pages you need – less paper waste
I picked up a burgundy knit fabric, printed the pattern and got down to business. Taping the pattern together was easy, and the shirt only required 3 pieces – front, back and neckline. Quick project, I guessed. I was right.
Because the original pattern is a straight-bottom top you need to add on the ties, but otherwise it's very straight forward.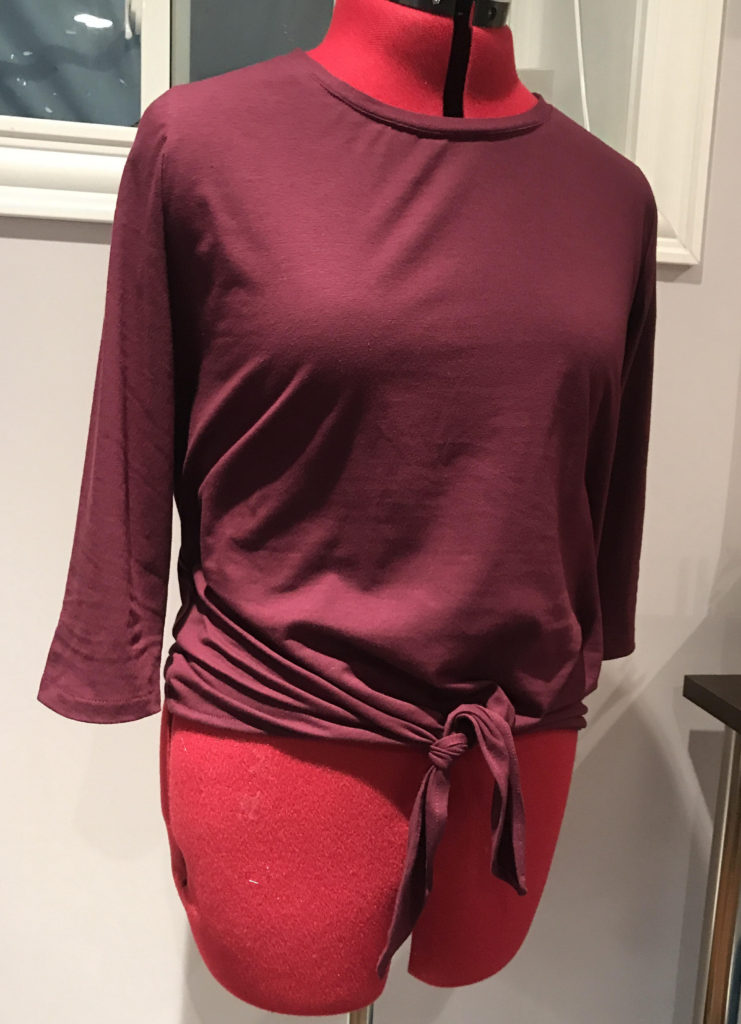 The top took less than an hour from start to finish, and it's absolutely adorable! I used the measurements in the pattern and the size 14 worked perfectly for me (I usually wear a small-medium in shirts).
I will be making this top again this weekend in black, but I'll definitely add on some length. I'm 5'5″ and I found this shirt hit right at the button on my jeans, and I prefer shirts to be just a couple of inches longer.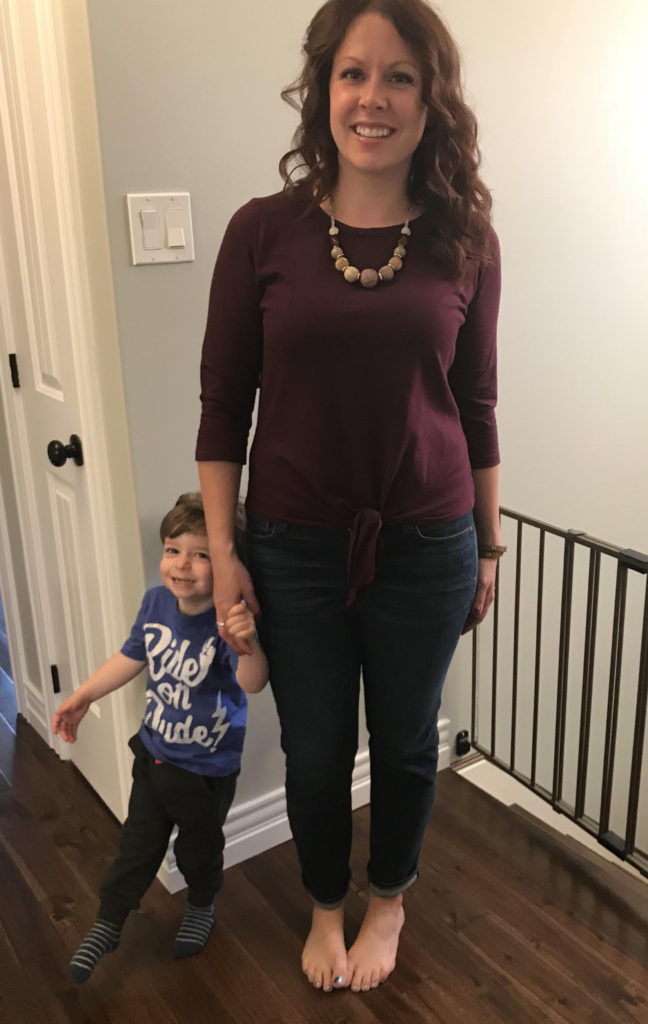 Another hack would be to make a sleeveless version of this top. To do this I would cut a piece similar to the neckline and add it to the armholes using the same process.
I'm looking forward to trying more versions of this shirt, and I'm also looking forward to trying more AK patterns. If you've ever tried one yourself, hit me up in the comments section and let me know which one was your favorite.
Hope you have a great weekend! Thanks for stopping by today.
Heather