I love bags. Whether it's a sequined clutch, a slouchy hobo, a leather crossbody, a backpack, or simply a reusable shopping bag, there's never been a point when I've told myself, "You don't need another bag."
As you may know, I have a bit of a ridiculous fabric stash right now that I'm attempting to reduce. Today's project is made entirely from my stash. I have chosen a buttery soft faux leather as well as a polka dot canvas fabric.
As fabrics come in different widths, I am assuming the narrowest width for the measurements listed here.
Materials:
0.9m fabric for exterior (slightly more if using more than one fabric, to account for seam allowance)
0.9m fabric for lining
thread
pins
clips (if using a delicate fabric like faux leather)
scissors
As with any project, I always begin by pressing my fabric to smooth out all of the wrinkles. If you're using a faux leather (or similar) fabric, I recommend testing with a low heat setting to ensure you don't scorch your fabric. You can gradually make the iron hotter if your fabric will tolerate it. I also ironed it on the wrong side of the fabric.
For this tutorial I am using 4 different fabrics so I am calling the polkadots "Fabric A", the faux leather "Fabric B", the turquoise lining "Fabric C", and the elephant canvas "Fabric "D"
Here is a list of the pieces you will need to cut:
Fabric A: two pieces 16″(w) X 10″(h)
Fabric B: two pieces 16″ (w) X 7″ (h)
Fabric C: two pieces 16″ X 16″
Pocket: Fabric D (A or B work as well): one piece 8×5″ (h) X 5″ (w)
Any fabric (for the straps): two pieces 33″ X 4″
If you want a larger or smaller pocket you can adjust as needed.
This tool from Clover is a must-have for me. I use it for seam allowances, so you just fold fabric over the ruler and press with a hot iron. It saves a ton of time when I'm turning up a straight hem of, say, an apron.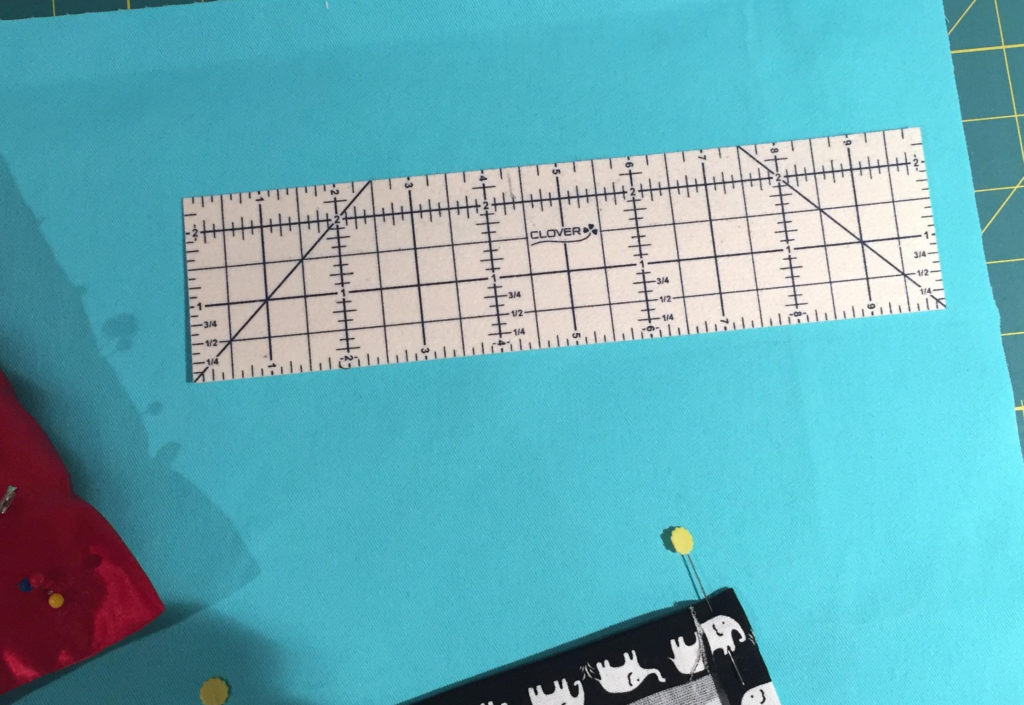 I folded in a 1/2″ seam allowance all the way around the pocket. For one long side I folded it down a second time (a full inch this time). I stitched along this long edge.
To place the pocket close to the top of the bag, I came down 4 inches from the top, and centered the pocket. You can place this anywhere you would find useful. You can make the pocket bigger or smaller, or do multiple pockets. I wanted a pocket that would hold my phone or my car keys for easy reach. Make sure you're placing the pocket on the right side of the fabric.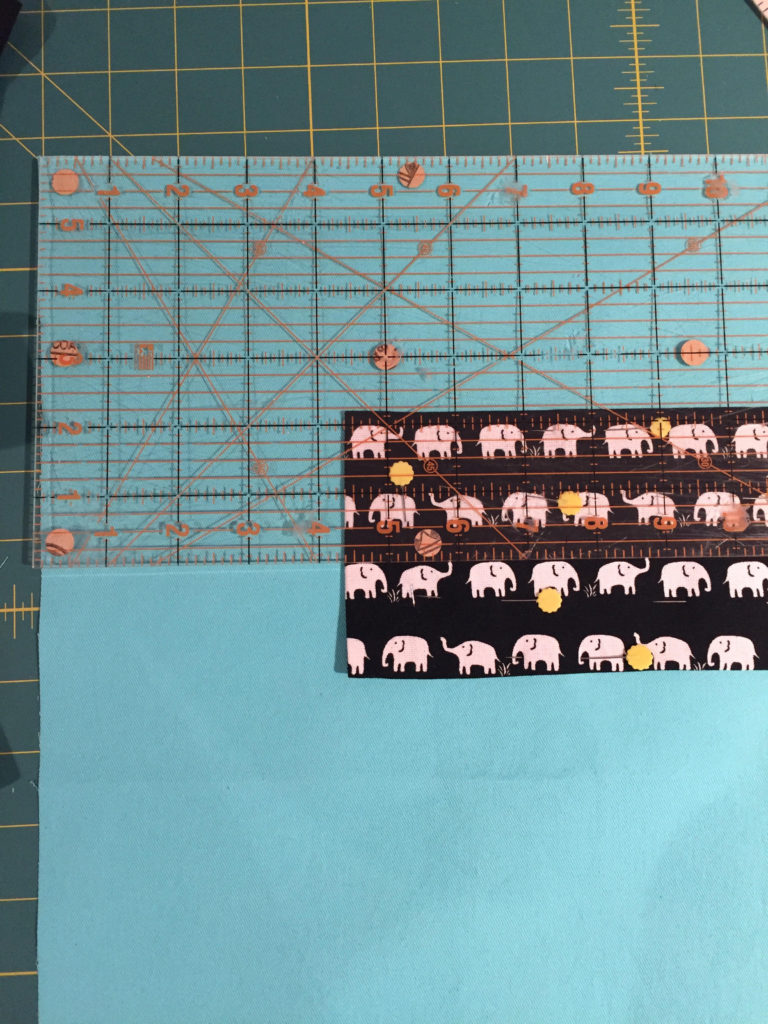 To attach the pocket I stitched close to the folded edge, but I also used a zigzag stitch to prevent fraying.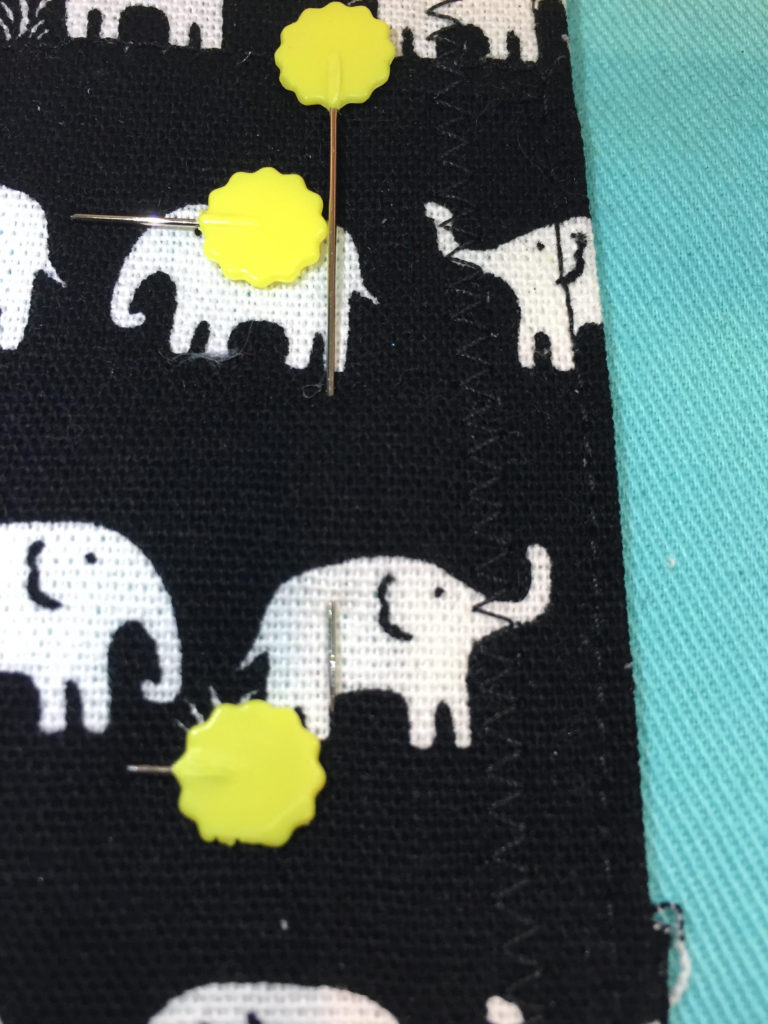 Now you're ready to attach the exterior of the tote. You will place Fabric A and Fabric B with right sides together. If you're using a print that needs to be oriented a certain way (so the print isn't upside down), pay special attention to that as you pin. Since I'm using faux leather I decided to use clips instead of pins. Clips are gentle enough that they don't mark your fabric (though always test first on an inconspicuous part of the fabric to be sure) and they are easy to remove as you sew.
The clips I use are mostly bought on Amazon.ca and are various sizes. If you search for "wonder clips" you should see lots of options there.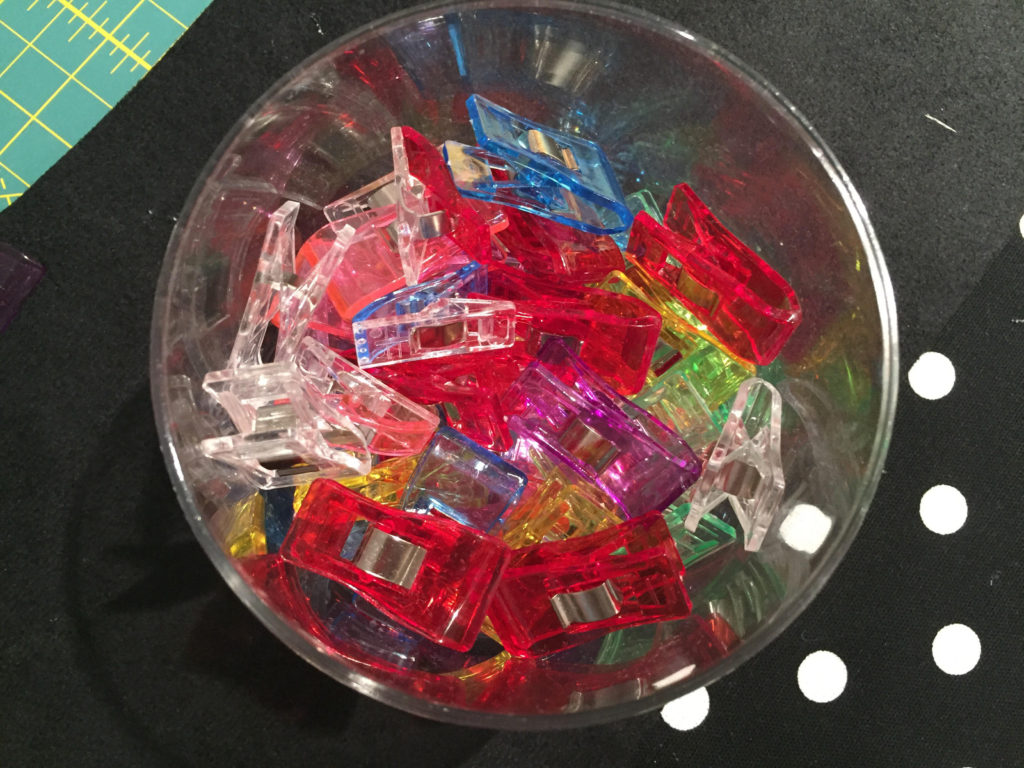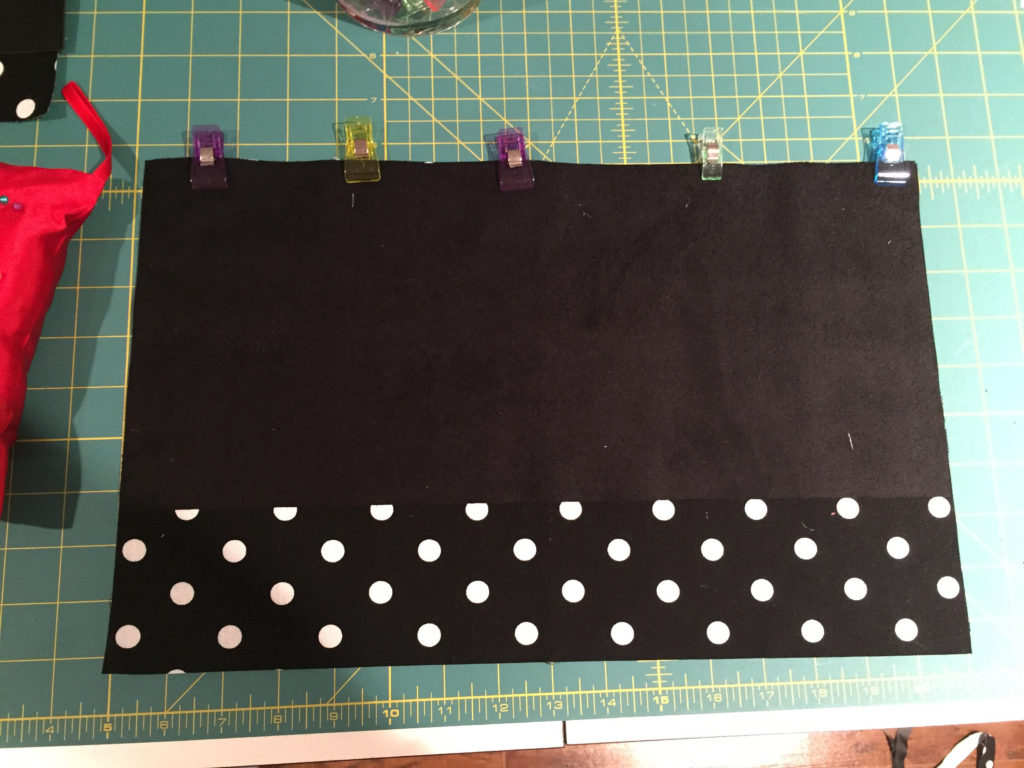 Stitch along the seam with a 1/2″ seam allowance. Repeat for the other side. Because I was using canvas on the outside of this bag, and canvas tends to fray quite easily, I decided to serge the sewn edges here.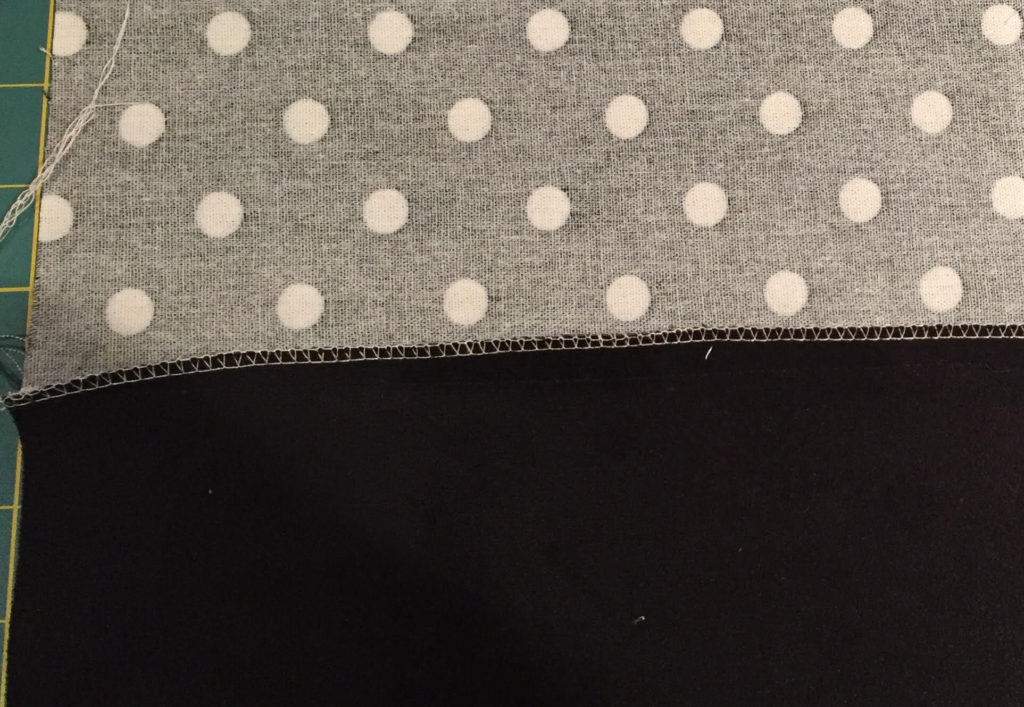 After serging, I pressed the seam upwards and stitched close to the seam. The faux leather is a bit bulky and won't stay in place simply by pressing with an iron, so to keep it flat I added this step. Also, the topstitching looks really nice and gives the bag a finished look.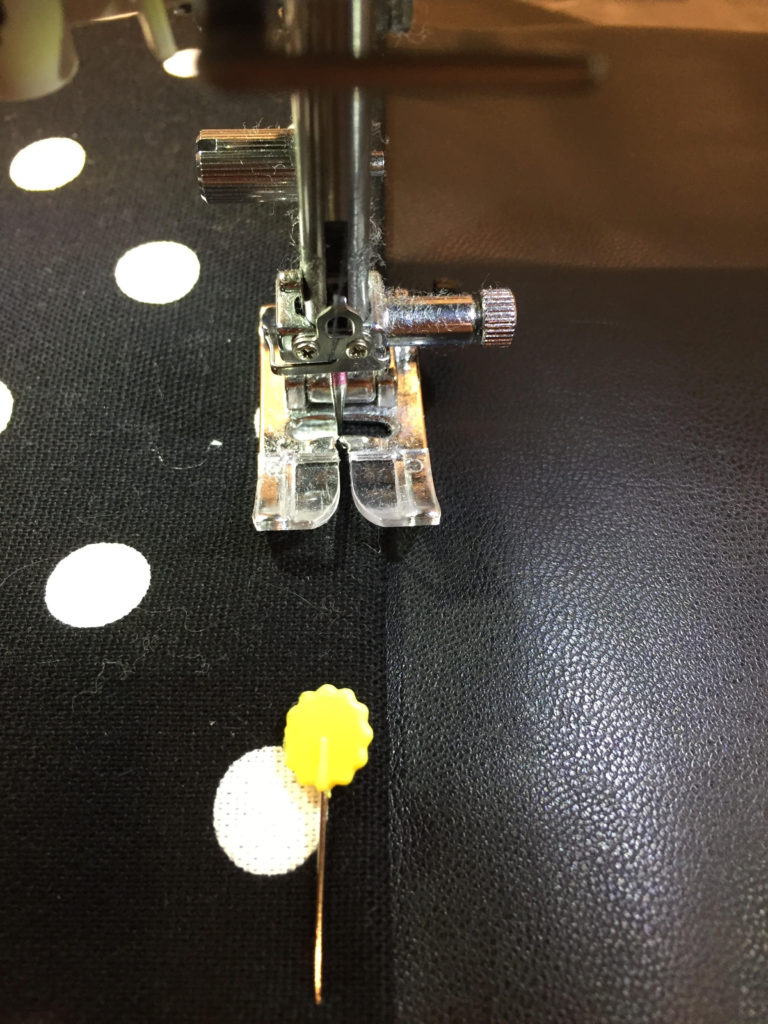 Now you will stitch the lining together, with right sides together. No serging required for this fabric.
Here is the trickiest part of the bag (and it's really not all that tricky): you will want to pinch each of the corners of the bag (liner and outer shell) so the seams are together and the corners form a point. Move in from the outer point about 1.5 inches and sew straight across. You will do this for all 4 corners (the two shell corners, the two lining corners). You can trim the tip off the edge as well once you're done sewing.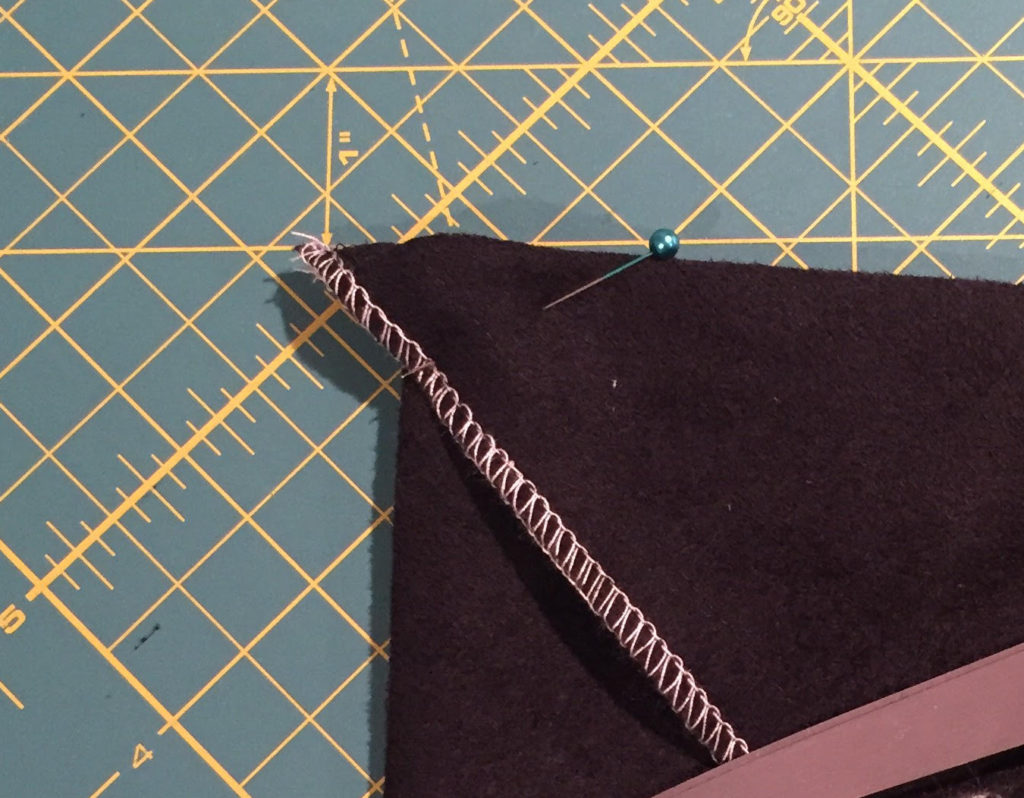 This is what the corners look like once they are completed.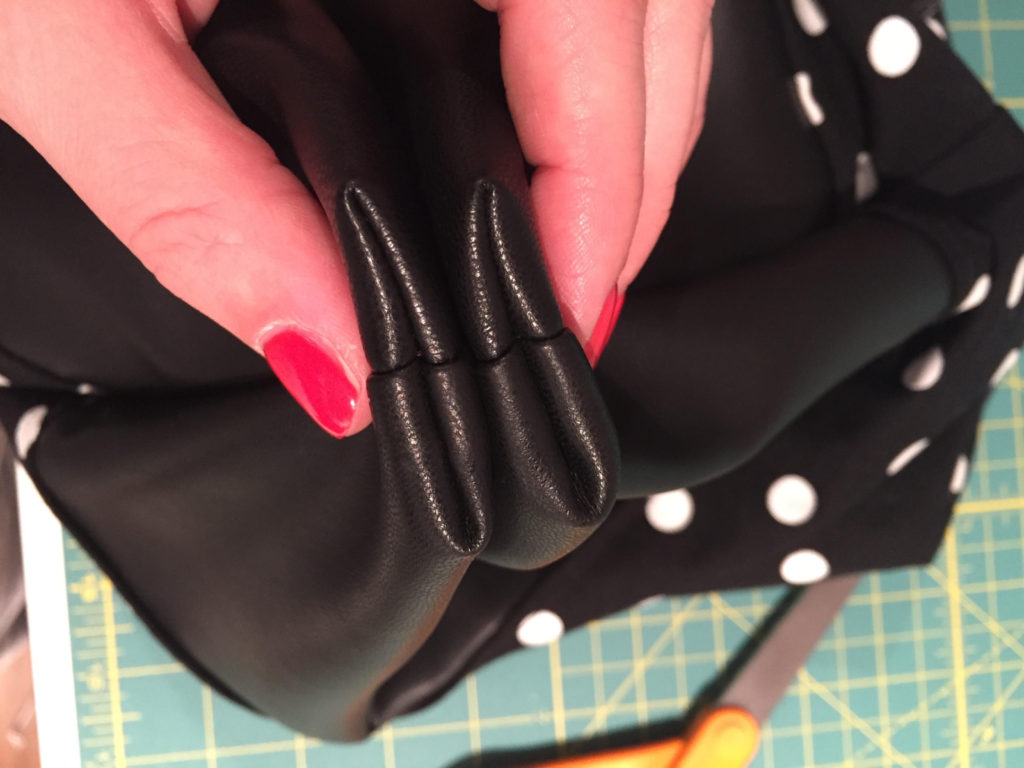 Here are the two pieces completed with corners snipped.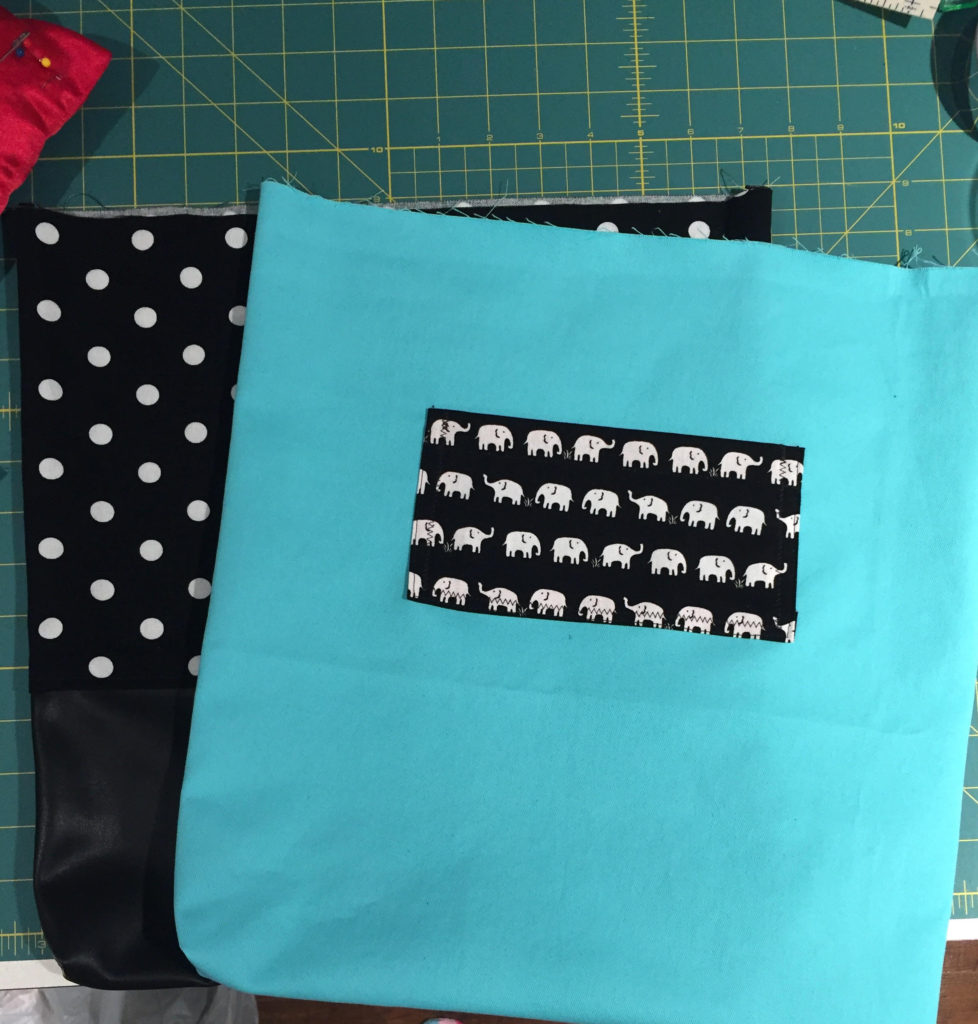 Now you can finish constructing your bag. Start by putting the lining inside of the shell, with wrong sides together. So you will turn your lining wrong side out and place inside the shell.
You may notice the lining is a little longer than the shell, so I just use my rotary cutter and take off the excess. It doesn't have to be perfect.
Next you will form the straps of the bag. There are two methods but my favorite is to simply fold the fabric (right side out) in half longways, press with an iron, then fold in each end a second time. Stitch along the folded edge. Another option is to fold the fabric in half lengthwise with wrong sides together, stitch, and then turn the tube right side out and press flat.  I knew this would not work for the faux leather, though, because ironing doesn't seem to want to flatten the fabric.
This is the outer edge of the strap that I've stitched.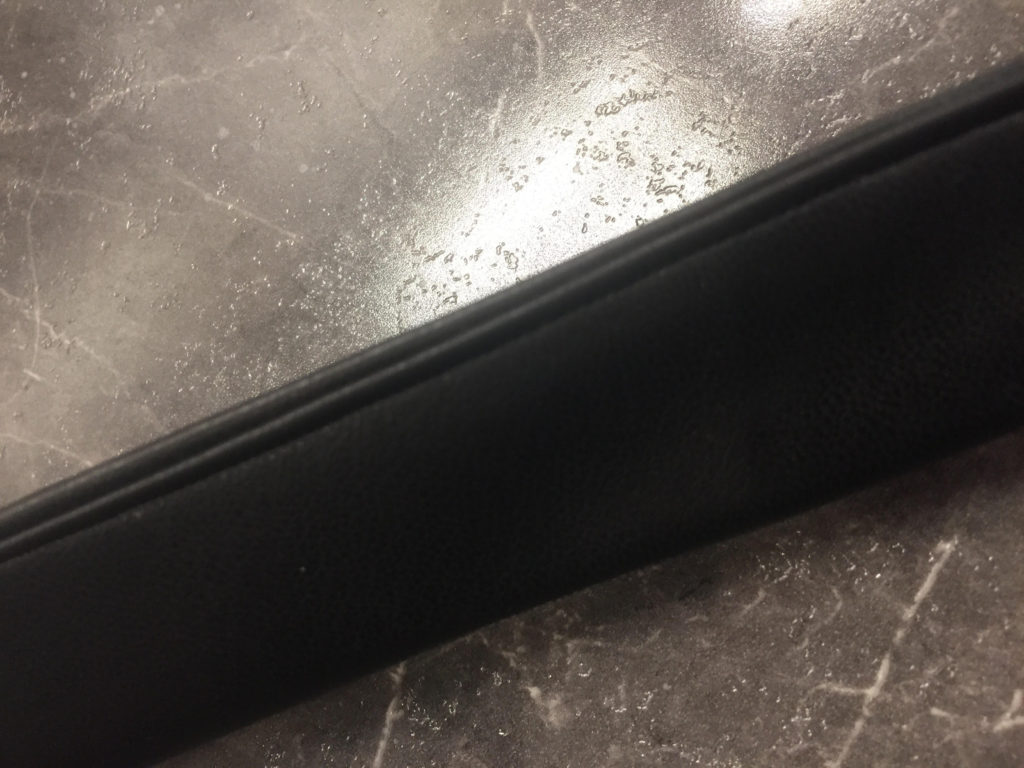 This is a view of the strap once it's completed.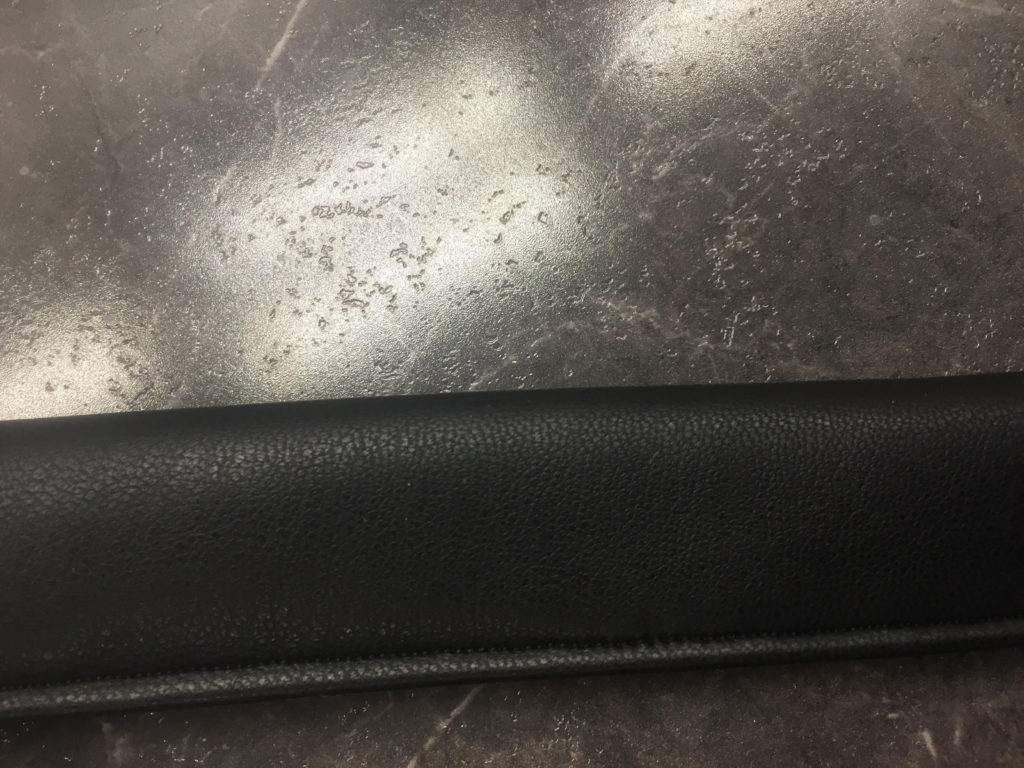 To finish the bag you want to fold down your lining fabric and the shell fabric just 1/2″ or more, to form a clean edge along the top of the bag. One you've folded down both, pinning along the way, you can add in your straps before stitching. I placed the straps in about 2.5″ from each side seam.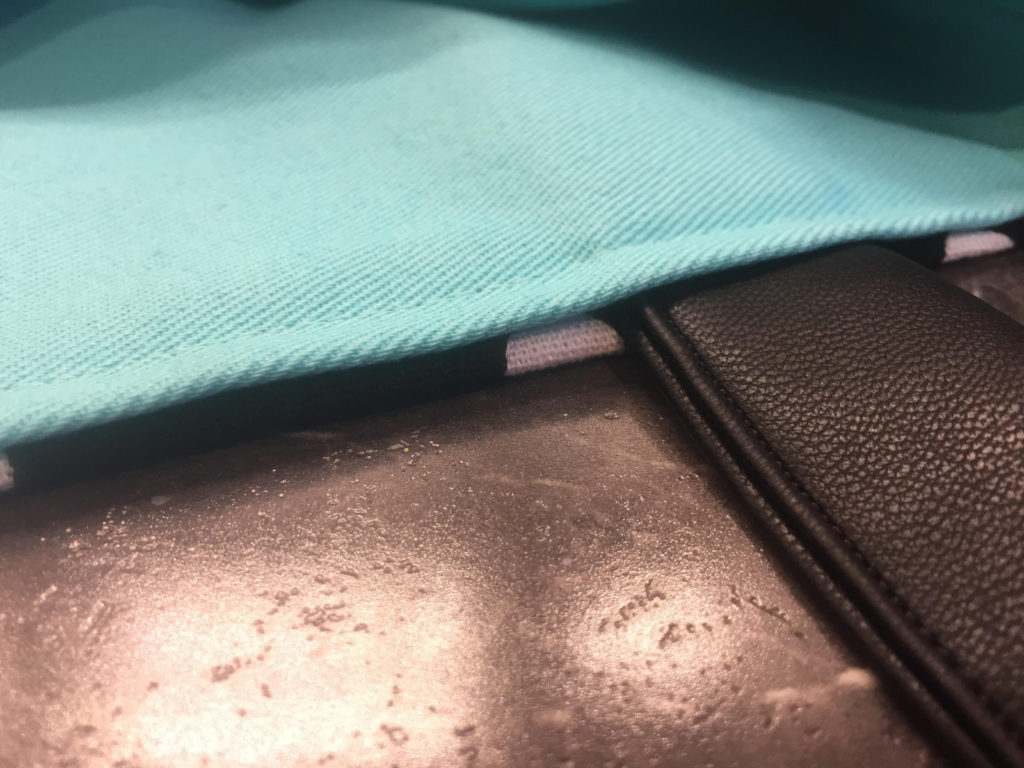 If folding down the fabric doesn't happen nicely for you, you can turn the bag inside out and stitch along the edge (folding the straps down into the bag this time instead, to account for it being inside out), leaving a 4 inch gap in your stitching. Then turn the bag right side out and press the seam flat. Topstitch along the edge, which will close the gap you've left. I prefer the other method as long as the fabric folds nicely. If I was using faux leather for this seam I would have to use the second method as, again, ironing doesn't seem to work on this fabric.
Stitch along the folded edge and you're all done!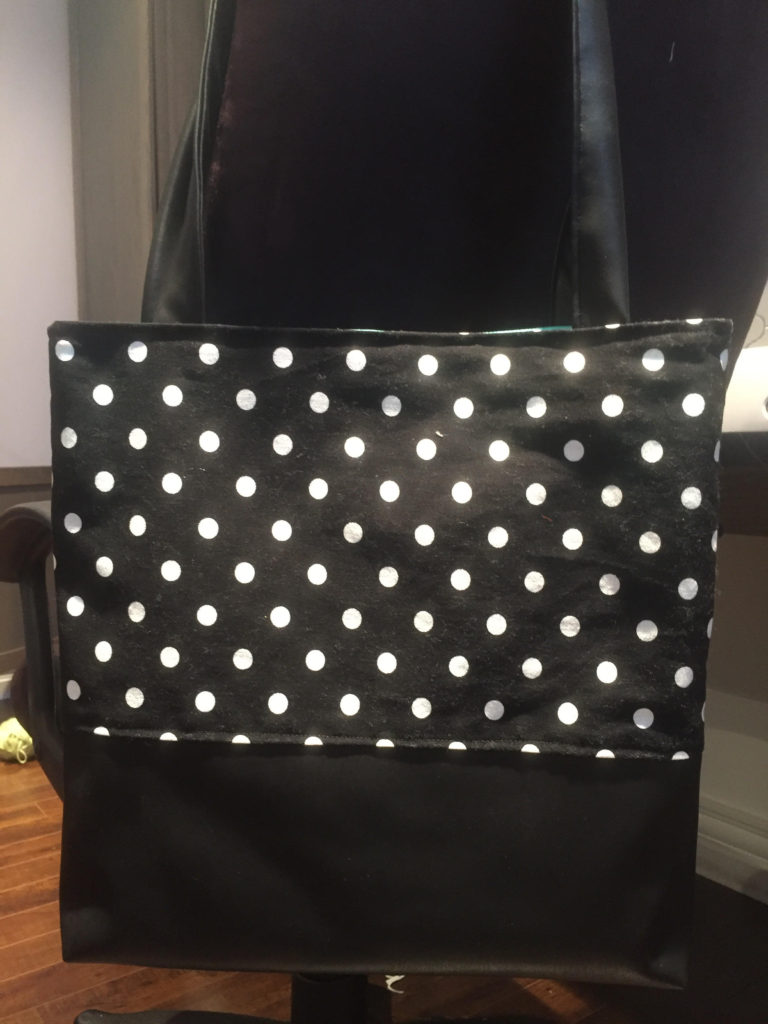 You can dress this bag up by adding a tassel or some decorative buttons. I will be doing a blog post (hopefully before too long) on a more decorative tote bag. I may even add in a zipper!
I hope you've enjoyed this tutorial. Happy sewing!
Heather