Recently I had the tremendous pleasure of making a memory quilt for a baby who will be arriving in just a couple of short months. The quilt is made in memory of the grandmother of the soon-to-arrive baby, using her scarves, tshirts and pyjamas.
I had pondered the design of this quilt for quite some time. I came up with an elephant puffing water out of its trunk, with the water droplets made from pieces of her clothes, and a patchwork border.
I set out to get fabric for the elephant and the main body of the quilt. I headed down to The Fabric Merchant and met with Shelley to discuss my project. We planned out the colors, the border, the design, etc. It's so good to bounce ideas off a really experienced quilter. An hour later I emerged with the supplies I needed.
I planned out the size of the quilt and drew up a rough draft of how it would look. I decided to do 3X3 (unfinished) squares of fabric to form the border. One challenge with this quilt is the variety of fabrics I had to work with – cotton for the body of the quilt, flannel on the back, but then there was everything from polyester to jersey to silk for the border and water droplets. I stabilized most of the fabric before sewing, just to save myself a headache.
I printed a silhouette of an elephant and cut it out of cotton, with applique paper for the backing. Then I drew out the water droplets and cut those out of the memory fabric, with applique paper on back as well.
I went with color coordinated thread for the applique in this case. Instead of my typical applique stitch I chose a tight zigzag stitch, as this blanket will probably be washed frequently and I want the design to hold up over time.
I stitched the elephant in place and then started adding the water droplets. Of course attaching them to the quilt with the iron was tough because, again, each fabric was a different weight and composition, and I was constantly changing settings on my iron to avoid scorching the pieces.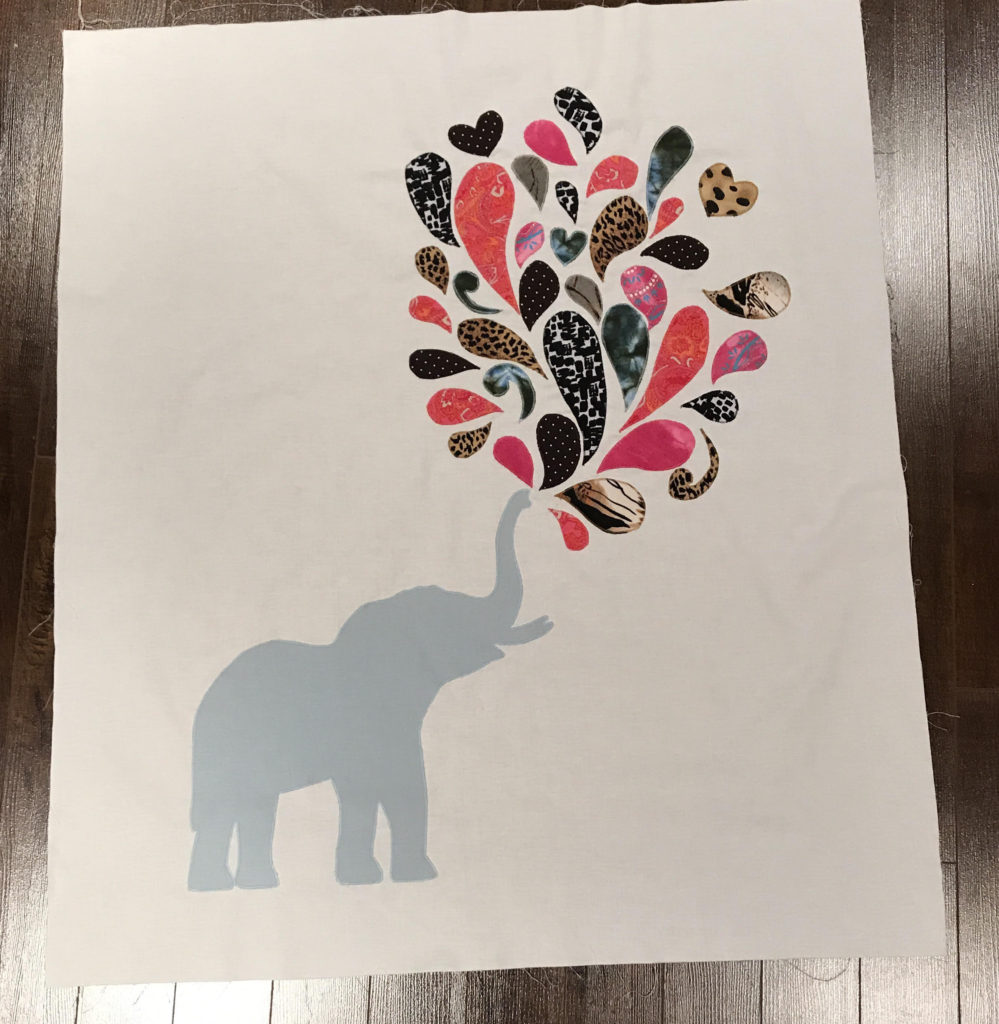 The applique took about 1 hour in total, so it went by pretty quickly.
Once the applique was done I added a black border to the blanket before stitching the colored border in place.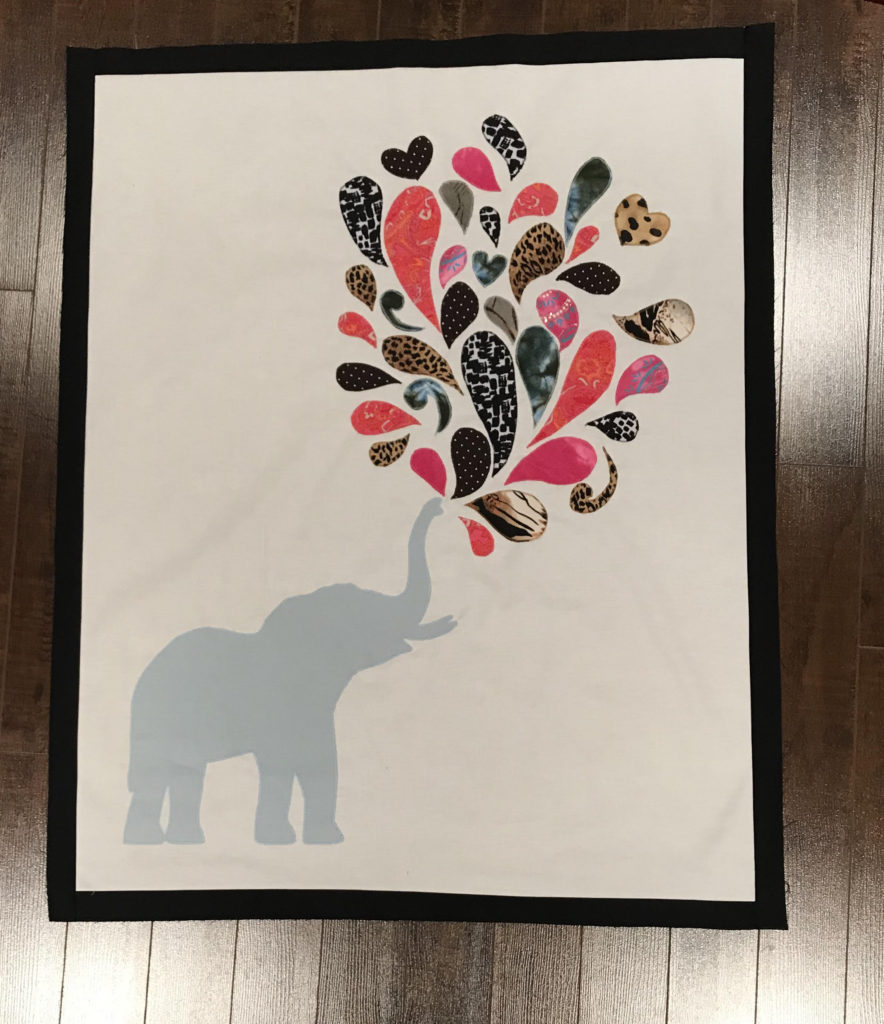 I finished the quilt with a black binding.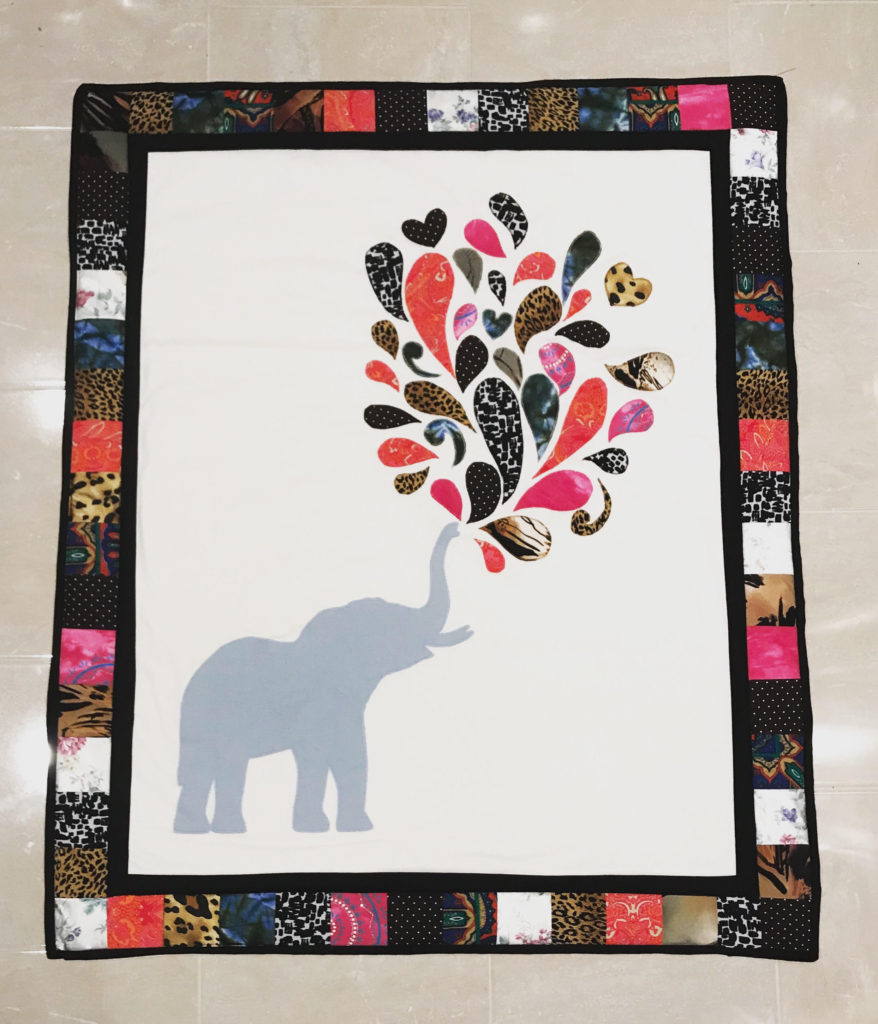 After I took this photo I quilted this down a bit with some white hearts on the white space to give this a bit more durability.
This project was so fun to design and create, and I would absolutely love to take on more keepsake projects down the road.
I hope you enjoyed this post today! Thanks for stopping by.
Heather